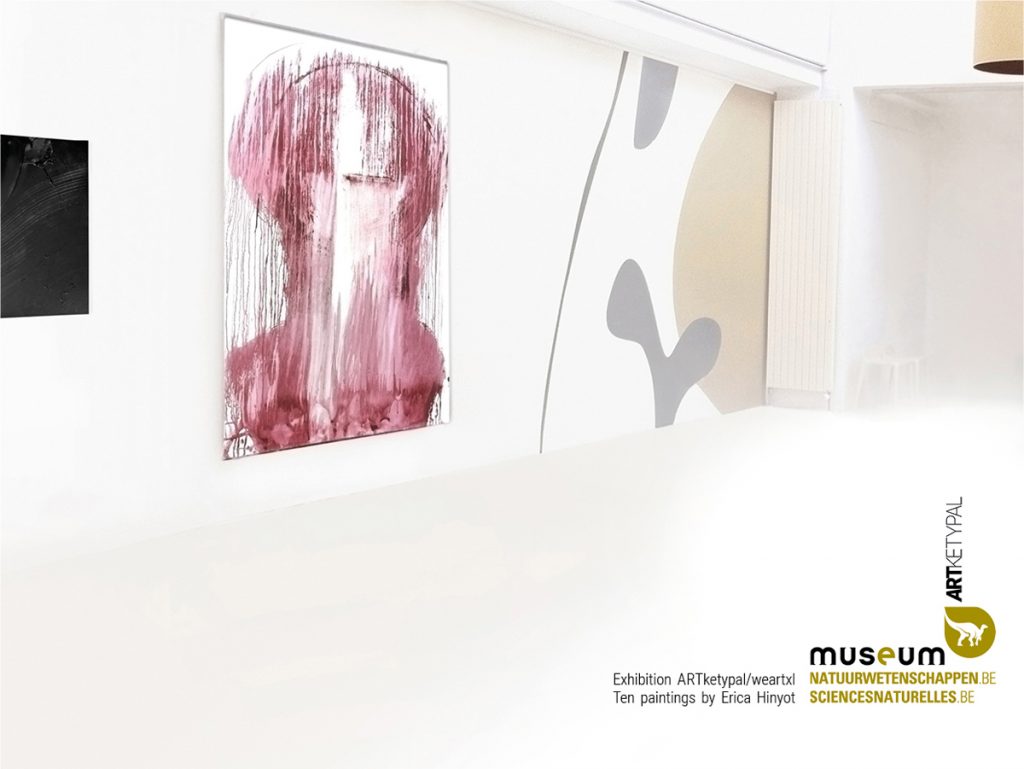 Natural Sciences MUSEUM from Brussels, vip room/dinosaur's hall.
(Ten paintings by Erica Hinyot – Pic : paintings The Salt of The Heart, Magnitude Mars).
© Erica Hinyot • erica-icare.com
---
2021
KUNSTRAUM – UCCLE
29-30 May & 5-6 June 2021
Exhibition Temporalities in the art space KUNSTRAUM Brussels, parcours d'artistes Uccle.
http://www.kunstraum.art/events
2020
FLAGEY – BRUSSELS
Exhibition Coup de cœur from weartxl's jury, vip room in the historic building the FLAGEY.
SABLON – BRUSSELS
Exhibition In praesentia hosted in the historic Mallien building,
place du Grand Sablon n°40
2019
Natural Sciences MUSEUM – BRUSSELS
Multi-sensorial exhibition contemporary art ARTketypal/weartxl from Erica Hinyot at the
Museum in the Vip room/dinosaur's hall
Exhibition ARTketypal/weartxl.
10 paintings and one installation by Erica Hinyot hosted at the Museum.
Exhibition weartxl with the participation of : Jean-Marc Lederman : music,
Anne-Pascale Mathy Devalck : fragrance.
Music and fragrance inspired by Erica's poetry Ode à la pluie.
Alexandra Posno (4 photomontages) & Pierre Posno (8 poetry books).
https://www.naturalsciences.be/fr/news/item/17805
Exhibition Abstractions in the Art's house from Uccle.
An initiative of Perrine Ledan the Alderman of Culture
with the support of the Mayor and Aldermen.
http://www.uccle.be/pics/2019/expo-abstractions.png/
2017
ODE A LA PLUIE,
multi-sensorial exhibition in the gallery Peinture Fraîche, Brussels.
https://www.instagram.com/p/CMK0l7Jgcqx/
---
Exhibitions before 2017 in belgium , France & Germany
BERLIN – GERMANY2016
Bundesärztekammer, Berlin – Germany.

BELGIUM 2016
Nivelinvest s.a., Louvain-La-Neuve.
Young and Partners N.V., Kortrijk.
Centre d'affaires Multiburo Parlement, Brussels.

BERLIN – GERMANY 2015
VivaNeo BERLIN.

BRUSSELS – BELGIUM 2015
Silversquare Europe SA (Meeus 1), Brussels.
Fleishman Hillard, Brussels.
Silversquare Europe SA (Meeus 2), Brussels.
Fimaco, Brugge.

BRUSSELS – BELGIUM 2014
Aspria Louise Brussels.
H. Iris Sud, IXL – Brussels.

BRUSSELS – BELGIUM 2003
VRT n.v. – VIP, VAAMSE RADIO &
TELEVISIEomroeporganisatie.

PARIS – FRANCE2002
Novo Nordisk s.a. PARIS.
Global Insurance Company ltd, Paris La Défense cédex –
France.
BRUSSELS – BELGIUM2002
Price Water House Coopers – Cabinet d'avocats
Haarmann Hemmelrath – Feprabel.
BRUSSELS – BELGIUM 2001
Nokia Representative Office.
Group O'Connor & Company
SNCB – Brussels
BNP Paribas place du Samedi
FRANCE 2000
ECS – Nanterre 4e, Nanterre

BELGIUM 2000
Crédit Agricole, Gembloux.
Optimedia, Brussels.
Solutia LLN, Louvain-la-Neuve.

BRUSSELS – BELGIUM 1999
RTBF – TV, RADIO-TELEVISION belge de la
COMMUNAUTE FRANCAISE.
Simmons & Simmons.
Ertico Brussels.
Carat Crystal, Brussels.
Ariane Group – Transiciel s.a.

BELGIUM 1998
Banque Degroof, Liège.
Mercedes Europa, Brussels.
Forges de Zeebrugge.
Thales Belgium SA, Herstal.
Bruservices s.a. (Brucall), Brussels.
Sara Lee – Grimbergen.
S.A.P. , Brussels.
Heidrick & Struggels, Brussels
Ericsson s.a., Brussels.